Garage Gate Woodland Hills
The garage gates can come in many shapes and deigns, colors, made from different materials, and provide different solutions. If you live or own a business in Woodland Hills, you might be familiar with garage gates. "Garage-gates" is a common name for overhead door, roll down gate, roll-down doors, roll up gate and more. They are usually divided into 2 categories: Residential and commercial. The advantage of the garage gates is the fact that whenever the garage gate is open, it doesn't take any room from where it is installed, since when it is open up, it goes over-head, or rolled into a roll in case you own a commercial rolling gate, and it allow the space that different type of door, like a swing gate or sliding gate would have taken. The garage gates also allow many options of designs and styles, and they come in different colors, so at the end of the installation, each one will be able to have the garage gate they need.
Bravo Garage Doors supply and install all kinds of garage gates in Woodland Hills California. But we are not limited to just that. You might be in need for emergency garage door repair Calabasas, or garage door repairs in LA, we will be there to assist anyone who need our help!
Garage Gate Services:
Rolling gate repairs Los Angeles.

Commercial gate repairs.

Garage door repairs.

Garage door opener repairs.

New garage door installment.

Storefront gate repair Woodland Hills.

Emergency gate repairs Woodland Hills.

Garage gate spring repair Los Angeles.

Garage gate motor installment, Woodland Hills.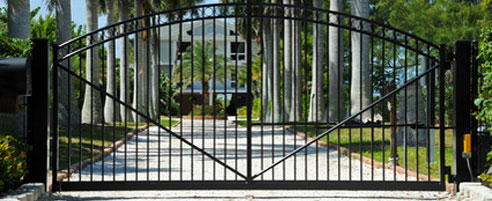 Broken garage gate can be dangerous!
There is a good reason why begin our "garage-gate" post with a safety warning. If you are the owner of a garage gate in Woodland Hills, you are used to a garage gate that open and closes every time you would like it to do so. The garage gates in Woodland Hills are made and created to function safely whenever we need them to do so. But once every several years something can go wrong with garage gate, and when the gate is off tracks, the garage gate is damaged, or if the operator that open and shut the garage gate is not opening or closing the gate, using the gate is risky. This goes for all types of garage gates in Woodland Hills: It can be a jammed commercial garage gate, or home garage door, if the door or the gate are broken, avoid operating them, and for sure do not try to force the garage gate to perform. Any attempt to force the gate to move can end with accidents, and even with injuries. If you need emergency gate repairs, connect with nearby garage gate specialist in Woodland Hills to inspect the garage door gates, repair it, and make sure that the garage gate is safe for use the way every single gate in Woodland Hills should be.
Garage Gate installation Woodland Hills
Mainly because that the garage gates are excellent solution for store owners who want their location to be properly secured, but at the same time are not searching for a garage gate that will take room from their store, the roll down garage gates turned out to be an ideal answer. If you own a store or commercial space in Woodland Hills, simply check around you whenever you walk or drive the roads of Woodland Hills CA, and see how many various kinds of metal gates there are. It can be a garage door in La Puente CA, a garage gate for a warehouse, metal garage gate, industrial gate, home swing gate and over-head doors. When you are looking to install new garage gate, there are couple of things you should think about prior to you making a decision which garage gate to purchase and set up. There are many options and designs for new garage gates that you did not even think to consider (Like a grill garage gate that allow people to see through the gate, or a pushup gate).
That is one of the many reasons you need a consultation from a skilled professional garage gate expert, which will bring all the possibilities, and will help you to select the best garage gate for you. Bravo Garage Doors provide and also install a variety of metal garage gates in Woodland Hills, such as commercial roll-up garage gates, rolling gates and more. To schedule a repair or service, get in touch with us, and one of our garage gate specialists will come, meet you at where you are, and help you choose the best garage gate for you. After years of servicing garage gates we can handle any garage gate job, simple or complex. You might be in need for garage door repair in Los Angeles, or for garage door service Torrance, we can help.
Which garage gate to install?
There are few open questions that need to be answered in deciding to install new garage gate or metal gate, and before making a choice, it is good to study, and understand more about metal roll down garage gates in Woodland Hills, in this post about "garage gates in Woodland Hills" we intend to try and help you obtain a far greater idea a regarding garage gates installment, which ones might be the best roll-up garage gates, which are the more efficient, which are the metal garage gates that you should avoid installing, and which metal garage gates are the garage gates that can still perform and protect your place even after many years or more,
From industrial garage gate installment, through home garage doors, Bravo Garage Doors gates got it all. Our team of garage gate fix and installment specialists, will do their best, to assist you choose the right garage gate for you. Because we garage Realize that when it get to a new steel garage gate installment, it is important for us that you will get the garage gate that will provide you with the protection that every good garage gate should, and at the same time, the garage gate should work perfectly, since a broken garage gate in Woodland Hills that require service, means loss of money and time, and this is something every store owner would probably prefer to stay away from. And the key to avoid a stuck roll-up garage gate is to start from the installment, and to purchase a high quality garage gate. You might in search for a store-entrance gate installment in Tarzana, or for a garage door repair in Port Chester, use high quality complaints, and ensure a high quality garage gate.
Experienced installer
Ask any business owner in Woodland Hills CA who use a store-entrance gate, and they all will tell you that a good and secure store, together with a reliable roll metal door, can save a lot of time and money. A good, perfectly operating roll metal door is so important. And we like to think that a reliable garage gate start from using high quality and strong parts. Many times we receive calls from store or home owners in Woodland Hills, which tell us they can't close their store at the end of the day. For that exact reason you should aim for top quality when installing a new garage gate. But purchases a garage gate that was created from strong materials isn't enough, there is another thing you should aim for, and that is a professional garage gate installer for the task. If you own a store in Woodland Hills, and you are looking to install a new garage gate, aim for quality. Yes, you might be able to save some money by purchasing the lowest quality garage gate, made from cheap parts and cheap materials, but you will end up paying so much more over the years when you will constantly need emergency garage door repairs. As we all know, just like many things in life, quality cost money, and investing in high quality roll metal door installment, will be worth it eventually.

Garage Gate Repairs Woodland Hills
If you own a commercial property, a storage place, or a warehouse in LA County CA, and you are using a store-entrance rolling garage gate, or a rollup garage gate in Woodland Hills, you probably know by now how important it is to have industrial rollup iron garage gate which function well and that open and close with no issues. There are many industrial roll-down gates in Woodland Hills, to fit different store-entrances and to give different solutions, since different stores in Woodland Hills need different types of doors and garage gates for different purposes.
Some business owners in Woodland Hills need basic roll-down gates, that can be opened and close with a simple push up or down with the assistance of the push up spring, and some need a motorized industrial heavy duty rolling garage gate that can be opened and closed many times during the day. Whether it is a rollup garage gate in Woodland Hills CA, roll-down garage gate repair in Tarzana California, or industrial garage gate in Woodland Hills, they all have one thing in common: They all need to be strong and reliable, like every industrial garage gate in Woodland Hills we install should be. And they all need to be maintained and greased to ensure their smooth and uninterrupted movement all year round.
Industrial garage gate Woodland Hills
Commercial garage gates repairs is not the place to try new things. And assuming you can repair the broken gate by doing it yourself is not enough. If you want to have the ability to fix broken industrial rolling garage gates, you need to have the tools, the parts, and the knowledge (Not to mention the experience required with commercial garage gates), and you need to have knowledge that only many years of servicing commercial garage gates in Woodland Hills may teach. The reason is that every industrial garage gate in Woodland Hills in unique, manufactured from different materials, and installed in a different way. So assuming that of someone was able to repair a jammed commercial door Woodland Hills once, it doesn't indicate that that he will be able to fix a different garage gate at some other places in Woodland Hills. Since if you would like to service industrial rollup garage gate in Woodland Hills you need to be ready for many surprises that come along the way, and you need to be able to offer emergency industrial garage gates services, since there is never good time for industrial garage gate to get stuck, and often the garage gate get stuck at the worst possible timing.
Motor-Driven Garage Gate Woodland Hills CA
If you own a motorized garage gate in Woodland Hills, such as a store-entrance roll down gate, or a residential garage door with a Liftmaster or Genie garage operator, and you are unable to open up the garage gate or to close it, do not be sure that it is due to a problem with the gate's motor. Although it may seem like the gate opener itself cannot open up the garage gate, it may be due to different reasons that none of them is the opener itself. We receive many service calls for service, when the client tell us that there is something wrong with the garage electric opener, and often when we arrive we discover that the reason the motor cannot open or close the garage gate is due to a problem with parts of the garage gate and not the motor.
If you cannot close the industrial garage gate, if the garage gate went off tracks, if the opener cannot move the garage gate, or if someone accidently hit the garage gate with a vehicle, get in touch a qualified local garage gate technician to come and repair it for you.
Garage Gate Repairs LA
There is a large number and a variety of garage gates in Woodland Hills. You can find a rolling gate for a warehouse entrance, a parking garage gate, storage unit rolling door, and more. The problem with garage gates is that it can work with no problems for many years, and then suddenly to stop working and get stuck. Gates can stop working from different reasons: it can be spring that broke or came lose, a garage gate motor that can't open the garage gate no more, to a gate that came off its tracks and now cannot be use. Bravo Garage Doors and gates can service all garage gates in Woodland Hills. Emergency garage gate repairs is something that our company provide on a daily base while servicing overhead doors and rolling garage gates. It can be a garage gate that went off tracks, or same day garage doors and gates repairs for a garage gate that keep getting stuck, with our same day repair service, no garage gate in Woodland Hills will remain broken for long. Since there is no "right" or "good" timing for a garage gate to get stuck, you may need the services of a garage gate expert on different days and different hours. The rolling garage gate can get stuck late at night before you lock your store, or it can get stuck in the morning when you want to open the shop and start the day. But there is no need to worry, we are here for you. Any time, any day. Bravo Garage Doors and gates is ready for any task of garage gate repair, store-entrance garage gate or metal roll down door, we are here for you. With skilled and qualified garage door repairmen, who have performed a countless amount of garage gate repairs near Woodland Hills, we can fix your broken garage door or broken garage gate today. We carry with us parts to fix 90% of garage gates in California, since getting your broken gate or door in Los Angeles working again ASAP is our top priority.
Garage Gate Woodland Hills
Call (818) 619-3061