Gate service in Woodland Hills
We fix and install all kinds of gates in Woodland Hills California. From commercial roll up gates, to a residential sliding gates, we will be there to help.
There are endless gates models and designs. Some need to provide security and protection, and some add decoration to the entrance where they are located. Some gates need to be massive and strong, and some need to be light, and need to blend into the area. But there is one common thing for all gates: They all need to strong and reliable. This is the reason why we only use the highest quality automatic gates parts, so we know that once we finish our job, we are leaving you with a high quality gate that will work perfectly for many years.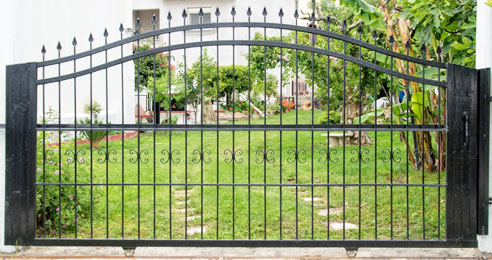 Iron Gate service in Woodland Hills
When you purchase a high quality gate, you are getting a gate that will be reliable and strong, and which its quality will be noticed in 2 ways: The first is the way the gate move, you will notice its quality every time you are going to use it, by how quiet and smooth the gate open and lock; and the second, the gate will not require any service such as repair, besides the maintenance that every gate need. It does not matter if it is an iron gate in Woodland Hills, a wooden gate in Calabasas or an rolling gate in DC, every gate need to be maintained.
A safe use of the gate
There is only one safe way to use a gate, and that goes for a rolling gate in NYC, and for a garage door repairs in San Fernando Valley: The only safe way to use a gate is when the gate is working in a perfect way. If there is a broken part, if the gate is out of track, if the operator does not open the gate, or if the gate is making strange noises, a broken gate should not be used.
A gate which need to be repaired can harm you or the people who use it. If there is a problem with your gate, call a gate repair company in Woodland Hills to come and inspect the gate, and repair it so it will be safe for use again.
Gate maintenance in Woodland Hills
If you aware to the importance of the maintenance, you probably maintain your gate twice a year. When the maintenance is being performed by a trained repairman, who know how to tune and improve the way the gate work, you will feel the improvement from the first use. The gate should work in a more quiet, smooth and safe way than it worked before the maintenance.
If there was one tip we could give all the people who own gates, is to maintain the gate on time, and by that save yourself a lot of time, money and troubles, which follow a repair for a broken gate.
Gate repair and installation Woodland Hills
We offer same day service for iron and wooden gates in Woodland Hills. We offer repair, installation, inspection, maintenance and more services, to help you get your gate working again ASAP, or to help you get a new gate installed. If there is something wrong with your automatic gate, do not ignore it. It will result with a bigger damage. Maintain your gate on time, and prevent problems before they happen.
For Gate Service in Woodland Hills
Call (818) 619-3061