Commercial Overhead Door Woodland Hills
Like every overhead door, a commercial Overhead door should be strong and reliable. So when it comes to commercial Overhead door repairs in Woodland Hills, you should always use a strong and high quality parts. Because a commercial Overhead door, that isn't working in a perfect way, can cost you a lot of time and money, can be dangerous, and even deadly, when it isn't being used properly.
Garage Door Maintenance
A second reason why you should use the best Overhead door parts for you door, is that a commercial garage door is usually being used twice as much than a residential door is being used. Which lead to more tension on the door operator, springs and parts. Which bring us to the need for an Overhead door maintenance. A commercial Overhead door, which need to be repaired, can cause - except from the loss of money and time- to a lot of frustration. That is why we highly recommend to perform a maintenance service for every commercial door at least every six months.
The maintenance Cannot replace a repair
Do not ignore the need for maintenance, and wait for the problem to happen, or for the door to get stuck, because not once, it seem like the door chose the worst time to stop working. On time maintenance will improve the way the door move, ensure that the door is safe for use, and that its parts are preserved and not damaged.
The maintenanc is a necessity
Unlike the residential doors, a commercial door need to be maintained and inspected by a professional and trained garage door tech. A commercial overhead door is not for do it yourself, since it require certain tools, parts, and knowledge of the heavy duty field.
The maintenance is not a substitute for repair. If your door need to be repaired, maintenance will not repair it. The maintenance is something we perform for doors that work fine, and the maintenance will only improve the way the work, and will preserve the parts.
Commercial Garage Door Repair Woodland Hills
But even if the door gut stuck and stopped working, there is no need to worry. Since we know how important it is for you, to get your garage door fixed ASAP, and even more when it comes to commercial Overhead door. To help you solving the issue ASAP, we are offering a same day commercial garage door repair service in Woodland Hills CA 24/7, So you can be sure that we will always be there for our customers, no matter what time or what day they are going to need us.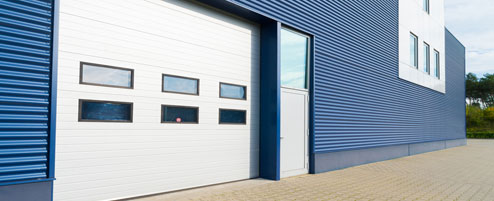 Important Warning!!!
If the commercial garage door is stuck, making strange noises, or any other kind of problem. Please contact a garage door Company in Woodland Hills To come and check the door. If you continue to use the door despite the fact that there is something wrong, not only that you may cause a bigger damage, you should know that a broken garage door, no matter if it is a residential or commercial garage door, can be dangerous to you, or to the people that use the door. Do not wait until it is too late, and contact us for a same day service.

We fix overhead doors from all brands:
Commercial garage door repair Woodland Hills CA.

Emergency overhead door repair service in Woodland Hills.

Free phone consultation.

Fair price for every commercial garage door job.

Professional and experienced commercial garage door technicians.

High quality commercial garage doors parts, designed for the American standard.

Commercial garage door maintenance service.

New commercial overhead door installation.

Heavy duty glass door repairs.
Commercial Roll Up Door Repair Woodland Hills
If you own a roll up door in Woodland Hills, and you are looking for someone who specialize in commercial roll up doors repair, look no farther. From rolling gates to roll up door repair, we can help. We have successfully completed hundreds of roll up doors repairs in Woodland Hills, and we will gladly help you solve all your roll up door issues. Whether it is an electric roll door repair, or a roll up gate maintenance, we can fix it. We carry parts, tools, and of course the knowledge we acquired during so many years, and we can repair your door today.

Commercial Garage Door Operator
If you own a commercial garage door, and you are looking for a contractor that repair or install garage door operators, we can help. We specialize in all kinds of operators repair and installation, and we carry operators from leading brands such as Lift Master motors.
A commercial overhead door operator need to be strong and reliable, and it should be able to work in a high cycle that the overhead door may require. Heavy duty overhead doors is what we do, and we are looking forward to help you choose the right operator for you garage door.
Safety sensors problem
If you own an automated overhead door, you probably know that it must include a safety feature, which is installed for the safety of the people who use the door. And sometime the safety sensors stop working, and preventing the door from closing. There are different reasons that can lead to that, but the bottom line is that if the safety sensors are not working the door won't close.

Bravo Garage Doors offer same day repair services for commercial overhead doors in Woodland Hills California. From broken spring repair, to opener troubleshooting, contact us, and get your door working again today.
For Commercial overhead door in Woodland Hills
Call (818) 619-3061