Garage Door Spring Calabasas
Broken garage door spring is one of the problems that can prevent garage door from opening, bring a door off tracks, out of balance, and many other possible problems. There are many reasons why your garage door spring snapped, most of them are a poor maintenance, or no lubrication and at all. But if the spring in your garage door is snapped, it doesn't mean that you need to replace the whole door. All it mean is that you need to contact Bravo Garage Doors (And it probably also mean that you have been ignoring the need for maintenance for a long time).
We repair and replace torsion and extension spring in Calabasas, and we offer same day service for all kinds of springs, including commercial and residential springs. The important thing when garage door spring snap is to stop using the overhead door, and call a local garage door company in Los Angeles CA to come and replace the broken spring, or springs. Whether you need commercial garage door spring repair in Calabasas, or garage door repairs in Tarzana, Bravo Garage Doors can fix it.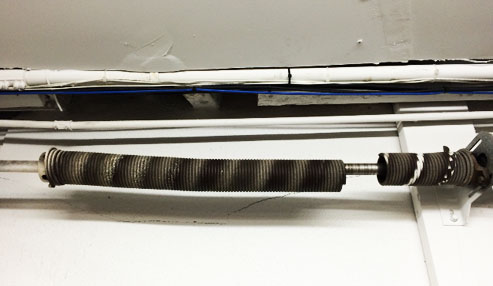 What to do when the spring snap?
The best thing for you to do, is to stop using the door, and contact a garage door technician in Los Angeles who can replace the snapped spring with a new one. There is no need to panic or to wonder if the repair is going to cost a lot of money. A spring replacement in Calabasas is something which we are dealing with on a daily base, since it is one of the common garage door issues, which can completely stop a garage door from working.
Keep in mind that garage spring replacement in Calabasas 91302, especially if it is heavy duty commercial overhead door spring repair can be a dangerous process, and since the weight of the door is not supported by the spring which snapped, trying to lift the door to open it up, or trying to close it is dangerous, and can result with a complete broken door, or even worst, with an injury.
The technicians of Bravo Garage Doors got the knowledge, the springs and the experience to match the correct spring for your garage door, whether it is a torsion spring or extension spring. We also have the tools and the experience to put the exact amount of tension on the spring, which will enable your door to stay balanced, and make it easy to use even if you are using it manually. To us it doesn't matter if you need torsion spring repair in Calabasas 91302 Ca, or garage door spring repair in Woodland Hills, we have the knowledge, the tools and the ability to replace any garage door spring in Calabasas today.

Torsion Spring Repair Calabasas 91302 Ca
A good garage door technician in Calabasas can fix or replace a broken torsion spring. We know that a broken spring, which lead to a garage door that cannot be open or close, can be the cause for a lot of frustration. That is why we, at Bravo Garage Doors, are available 24/7 for all your garage doors needs. We repair garage door torsion spring and extension springs, and we will do it today. We carry in our tracks many torsion spring from different size and for different garage doors, and most likely that we carry the spring which is needed in order to repair your garage door. If the Garage Door springs in Calabasas are broken, or any other garage door issues, please contact us, and one of our garage doors technicians will be happy to help.
Every broken garage door - whether it is a broken spring or if the door is off tracks, or any other problem – can be dangerous, and should not be used before it will be repaired and inspected by a garage door repairman, who will make sure that it is safe for use again. Each overhead door in Calabasas need its own set of springs, and springs that may look the same, or almost the same to you, can make a difference between a garage door in Calabasas that will be safe for use, and one which won't work p[properly, and using it will mean talking a risk.
Garage Spring Replacement Calabasas
We offer a same day garage door repair service in Calabasas, which include same day broken spring repair. Whether your garage door spring snapped due to lack of maintenance, or for any other reason, we can fix it. We got the experience to match the right spring for every overhead door in Calabasas, the spring that will maintain the balance of the door, whether it is a single car garage door, or a heavy duty commercial door in Calabasas. All you need to do is to contact us, and get your garage door repaired today. Our experience in repairing overhead doors in Calabasas, taught us which spring are most likely to snap, so we know to carry them with us in our tracks, which give our garage doors techs in Calabasas the ability to address any garage door issue on the spot.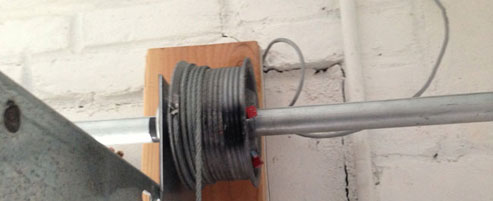 Extension Spring Repair Calabasas
The extension springs located on top of your garage door tracks. Repairing a broken extension spring in Calabasas is not a complicated project for a trained technician, and we are dealing with repairing broken spring on a daily base. Replacing garage door extension springs is a less complicated job, and some home owners choose to perform the replacement by DIY. If you think that there might be a problem with your garage door, do not wait until it will be too late and contact us to save time and money with SAME DAY GARAGE DOOR SPRING REPAIR IN CALABASAS. For any questions, please contact us, and one of our customer service representative will be glad to assist you. No need to worry, and no need to wonder how long you will have to wait. We offer same day, sometime in less than 2 hours garage door repair in Calabasas.
Can I replace the broken spring by myself?
When the issue is a broken spring, and we are being asked if we recommend to replace it by doing-it-yourself, or to contact garage door specialist in Calabasas to do the replacement. We love to start with a short story that happened to someone who tried to repair garage door by DIY:
We once received a call from someone who asked us to come and help him replace the spring in he's garage door in Calabasas. When we arrived, he showed us the springs that he bought, and that he tried to replace by himself unsuccessfully. The thing is that he actually found the right springs for the weight and size of he's door in Calabasas (Although from low quality, but this wasn't the issue). We asked him to show us what he was doing, and when he demonstrated to us, we immediately stopped him, and told him that he is lucky that he did not get injured, and that the door did not break. The problem was that like many garages in Calabasas, he had low headroom garage door, with torsion springs, and he was trying to put tension on the springs in the wrong direction. All he needed, was to ask garage door expert in Calabasas CA to tell him what he was doing wrong. But sometime the knowledge on how to do things is more important than if you do or do not have the ability and the tools to do them. To read more about DIY spring repairs, you can read this article by All Los Angeles Garage Doors, Visit this garage door community, or watch one of the garage door Videos.
There are some garage door repairs in Calabasas that can be done in a DIY. And there are many that should be left for a qualified technicians. The extension spring replacement comes somewhere in the middle: There are garage doors spring replacement in Calabasas which can be relatively easy to perform, and can be done in a do-it-yourself repair, and some are so complicated, that even a trained and experienced repairman can find them difficult, complicated and dangerous.
When it comes to do-it-yourself spring replacement, If we were asked to give one important tip, that we recommend to use for every garage door repair in the world, it can be garage door repair in Calabasas or garage door spring repair in La Puente. Always make sure that you follow the safety guidelines, and never take unnecessary risks, because there is no money in the world that worth your health, and the safety of your family. Even if your car is locked inside the garage and you must take it out, and even if your door is open and it is raining outside, do not touch things that you are not sure about them. There are people that fixing garage doors in Calabasas is what they do, and they can fix your garage door today.
Garage Door DIY and Safety
If you understand the garage door mechanism, and the way overhead doors in Calabasas operate, and you decided to go ahead and replace the snapped torsion spring by yourself and nor using garage door technician for do the spring replacement for you, make sure that you have the right spring for the door, and when we say the right spring, we mean the exact one and not a spring which is almost the right one, or that you hope that will make the door work. We witnessed many cases of people who used the wrong springs for their overhead door in Calabasas, and a door of few hundred pounds simply "jumped" or crashed down into the ground.
Some of the garage door parts, like cables, springs hinges and other parts are under a lot of tension, and that makes them dangerous. After servicing overhead doors in Calabasas, we have the experience to locate the broken or the problematic part, and we know how to low the tension and repair the problem, but you may not have such an experience in servicing overhead doors in Calabasas, and removing the wrong part, or losing a screw when there is still tension on the door can result with serious injuries. There are right ways to replace broken garage door springs in Calabasas, and trying to perform the spring replacement in Calabasas with the wrong tools can be dangerous.
Why the garage door spring snapped?
There are many possible reasons why spring of garage doors in Calabasas snap, and they apply to all garage doors, whether it is a garage opener repair in Calabasas, or a garage door spring repair Tarzana. Here are some of the possible reason:
Lack of garage door maintenance: Most of the time when we arrive to a customer's place in Calabasas to inspect the door, we find that it has been few years since the door was maintained. When you do not lubricate your garage door in Calabasas at all, you are speeding the process of the parts wearing, and so for the springs.
It is recommended to lubricate overhead doors in Calabasas once every 6 months. It is a short process, which not only improve the way the door works, but also protect the parts of the door. Maintaining your overhead door in Calabasas will ensure the smooth and safe operation of your overhead door.
Usage of the garage door: Some garage doors in Calabasas are being used once a day, some are being used 20 times and more. How often you are using your overhead door in Calabasas, affect the springs and the door. The more the door is being used, the shorter will be the life cycle of the springs.

High quality garage door springs: If your door is made from high quality garage door materials, the parts and the door will last longer. Today there are overhead doors in Calabasas that can last for more than 30 years, as long as they are made from high quality materials.

Is it the right spring for the door? We sometime find that the springs that were installed on overhead doors in Calabasas are the wrong set of springs for the door. Like we explained earlier, every overhead door in Calabasas has a unique set of springs, and using the wrong spring will eventually result with a stuck garage door.
Garage door spring replacement in Los Angeles
If you are looking for a company that can repair or replace any broken garage door spring in Calabasas Los Angeles, give us a call and we will be there for you today. Fixing overhead doors in Calabasas, whether it is a broken garage door spring repair, extension or torsion, including cables, pulleys, drums, garage door operator repairs Calabasas etc. is what we do. And after years of fixing overhead doors in Calabasas, and replacing broken springs, we know which springs are most likely to snap, and we carry many of them with us, to get your garage door working again just like it did before the spring snapped.
In any case of broken garage door, no matter what the problem is, we recommend you to stop trying to use the garage door, and to contact a garage door company to come and fix it. Bravo Garage Doors service all Los Angeles, emergency repair and installation, it can be a broken garage door in Woodland Hills, or garage door service in West Hills, Bravo Garage Doors we can fix it.
Garage Door Videos:
Garage Door Spring Calabasas
Call: (818) 619-3061